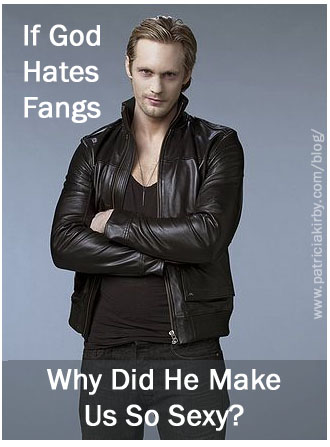 The only problem with watching True Blood via Netflix is that it leaves me feeling like the slow kid in class.  Everybody else has moved on to lesson four, while I'm still stuck in lesson three.  That is, I'm still watching season three, with no chance of seeing season four for months.
But I'm still not ponying up the cambio for cable tv, much less the premium channels. Besides, on DVD, I can watch certain scenes over and over. (Nekkid Eric!) Last night, however, it was my husband who was re-watching a scene. Surprisingly it didn't involve nudie boobies.  It was the scene where Russell Edgington gleefully rips the spine out of an anchorman. (Given the quality of American journalism, it's really a pity that vampires don't exist.) Russell goes on a delightful rant about humans–our greedy and self-destructive nature–all while blithely gesturing with the bloody spine. My husband declared it, "The best episode, ever."
Me, I'm just happy when Eric shows up wearing nothing at all.
Meanwhile, I'm spending a lot of time with my own obnoxious blond vampire, Breas Montrose. I've got a stack of edits from my Carina Press editor for The Canvas Thief. Breas describes his role in the story as:
"I'm a Gandalf. I hang around, full of powerful magic I never use, and make vague, important-sounding statements."
***
Amusing side note. A search for Eric Northman in Google images turns up one very ordinary, somewhat pudgy, middle-management white guy. He sticks out like a sore thumb among the many images of smexy, blond vampires. Heh.