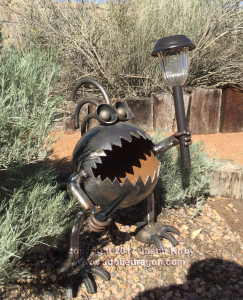 Spring is here and with it, the wind and…Corrales Art & Studio Tour.  Which is a fancy way of saying a sanctioned means of snooping in dozens of artists' studios in the quaint village of Corrales, New Mexico.  The tour is, of course, free.  Except, heh, for the price of gas.  On that note, I know that some visitors choose to take the tour on a bicycle.
Information and maps can be found here. Our studio, number 75, is in the sandhills. Despite the arid site, we have a lush garden where the art is displayed.
This year, I've started a new series of Animal Shamans. Constructed of steel with glass accents, they range from about 15″ tall to 3-feet tall. The larger shamans can hold a standard solar light.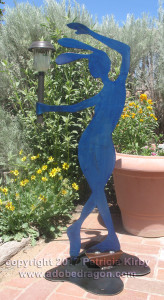 My husband has crafted a host of new and hilarious garden gremlins. This series, featuring the misbehaving beasties who delight in stealing solar lights and other landscaping features, is always a hit. Especially with the young and young at heart.
He's also created several grown-up (*imperious, mature cough*) pieces, including several in his petroglyph series.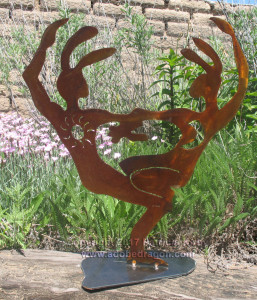 Be there or be a quadrilateral!  Remember, "Without 'art,' earth is just 'eh.'"