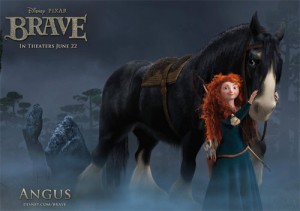 It seems that even critics who liked Brave thinks it's not as inventive as previous Pixar fare. I disagree. It breaks the fairy tale mold in ways that go beyond its strong female protagonist.
No, Merida is NOT the typical Snow White/Cinderella-style vapid heroine, whose only aspiration is marriage to a total stranger–handsome, but still a stranger–her reward for being pretty and well-behaved. Merida is a strong, capable, self-rescuing princess.
But the film busts other tropes, as well. For instance, there are no evil stepmothers or wicked witches, driven to destroy the princess out of jealousy. Because, you know, the princess is now the fairest in the land?  Why is that, by the way? Male villains are given straightforward motivations like greed and lust for power, but the typical female (Disney) villain's megalomania is nothing more than a beauty routine gone out of control. For once, I'd like to see a villainess who isn't hung up on beauty, who wants to rule because she knows she's bigger, badder and smarter than the current crop of idiots who are running things.
Speaking of big bads….Brave departs from formula there with Continue reading →