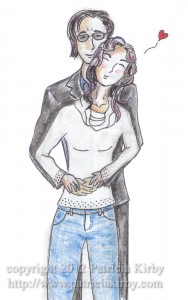 It's summer in the desert; it hasn't rained in months; it's hot.
In other news, water is wet.
As the blog name suggests, "But it's a dry heat." By comparison to the deep South, this is true. Except we're edging up on our so-called monsoon season, which is New Mexico for "if we're lucky, three inches of rain will fall in about a month." The season announces itself with blithering heat and slight bit of humidity. The problem is that many of us still rely on evaporative cooling, i.e., the swamp cooler. Basically, a metal box that pushes wet air into the house. Works great in bone dry climes; add even a touch of humidity, and it's not even an improvement over a fan.
It's too damn hot to do anything but work on my current WIP, a romantic space opera. But I am writing, and as proof, I give you, an excerpt. Along with an appallingly bad sketch. This, kiddies, is what happens when artists who can't draw people draw people without using a reference photo. Setup: Kelly, mild-mannered bookstore owner attends the gallery opening of Eric, an artist and escaped convict from another universe. Although, Kelly isn't aware of the latter. (Unedited, in the raw.)
****Lost in Paradise, WIP, excerpt****
The first painting looked like a photo from Continue reading →