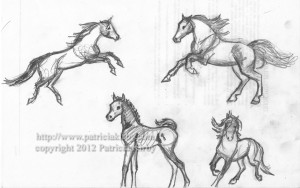 I start off with a plan. "I will practice drawing people today. Because I still can't draw people. I will not draw horses. Because horses are easy to draw. Seriously, no horses!"
Five minutes later, and I've got this. Four quick horse sketches. Because I can't stop myself. I've been drawing horses since I could hold a pencil. People are hard to draw, with their weird round heads and walking on two legs.
Anyway, I'm making this a sketchbook dump Friday and excerpt Friday. Technically, the sequel to The Music of Chaos is about 90-percent done. First draft, anyway. I got stuck on a scene at the end, and then wandered off to two other projects. The problem is, I got two author voices–Hello, Sybil!–the snarky, first person, Mary Sue-ish voice of The Music of Chaos and the third person voice that I use elsewhere. The second voice has been in control lately.
In this bit of dialogue from Chapter One, Hallowbone Holiday (working title), Regan O'Connell leaves work, the day job, early…. Continue reading →