My email is pkirby at patriciakirby dot com. To ensure that your message doesn't get dumped in spam, use the word "greyhound" in subject line.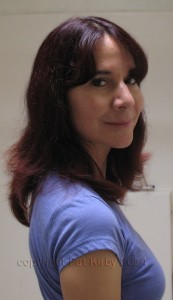 ****
A lifelong resident of the desert southwest, P. Kirby grew up in El Paso, Texas and is a graduate of New Mexico State University.  She prefers to recast familiar, villainous archetypes – dark elves, vampires – in a more heroic light and avoids traditional "big-bad out to destroy the world" storylines. Home is a tiny house in the desert, shared with her long-suffering husband. She is co-owned by an Arabian horse and a neurotic greyhound. She has never owned, or been owned, by a cat.
She is admittedly, a slow writer. Seriously. Glaciers move faster.