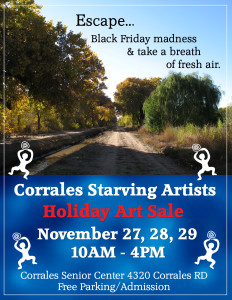 Tis the season…to make windchimes.
On the eve of what will be Adobe Dragon Design Studio's last craft/art show of 2015, I'm in a last minute panicky rush of makin' schtuff, namely windchimes. I first made chimes a couple of years ago, just five, and they sold out in the first two days of the show. Since then, chimes have become a staple in my art repertoire.
The best thing about windchimes is that I really enjoy making them. Even certain overly popular designs–Kokopelli, quails and roadrunners, sigh. And my bestsellers, greyhounds (greyhound folk love their needlenosed hounds.) No two are ever alike, I experiment with different colors and types of glass and metal beads, charms, and wire wrapping. The latter being a challenge because I string them with bailing wire, which is stiff and not inclined to delicate styles of wrapping. The operative word here is "rustic," which is appropriate since my style is best described as folk art.
In the Albuquerque area this Thanksgiving season? Come on out to the Corrales Starving Artists Holiday Art Sale, November 27, 28, and 29. 10AM – 4PM. Corrales S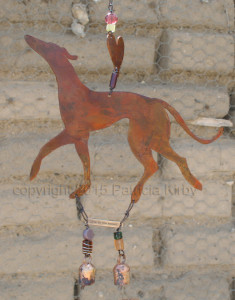 enior Center, 4320 Corrales, NM. FREE ADMISSION/PARKING! Make a day of it, visit Corrales's fine art galleries and antique shops, and enjoy a meal at one of our restaurants.
Be there, or be overwhelmed by Black Friday shoppers at the mall.