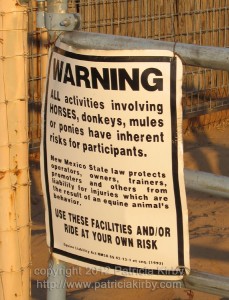 The sign says it all.
Horses are big dangerous and destructive animals. Why girls go horse crazy is beyond me. (Ahem. There's a joke in there about men…moving on….)
This is the Wonder Horse's second liability sign. The first, made of plastic, was destroyed in a few weeks, reduced to a collection of white shards in the sand. The best he can manage with this metal version is to bend it. Metal, you see, makes the most delightful racket when struck with hooves. Especially, at two in the morning. Oy.
Friday morning: I'm fumbling with the faucet in the shower. Outside, a horse neighs, the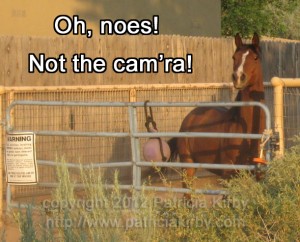 sound coming through the skylight in the bathroom. The Wonder Horse has heard activity in Chez Kirby. "The two legs are up. Time to feed the horse." He neighs again.
"You're not the boss of me," I mutter and get in the shower.
Forty minutes later, I'm out the door and headed for the paddock. A thick pall of dusty tan hangs in the air, sand kicked up by hooves. The Wonder Horse has worked himself up into a right lather. He sproinging around the paddock in that big bouncy deer-like trot that's beauty in motion but is absolutely impossible to ride.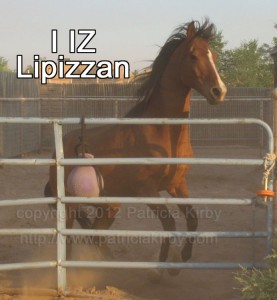 I go back in the house to get the camera and he shrieks equine obscenities at me. Back outside, I stop and take a picture of my loony horse. Recognizing the black thing and its significance–"she's going to fiddle with the fucking thing and not feed me!"–he comes unglued.
He gallops back and forth, skidding to a stop at the gate, spraying sand in all directions. When that doesn't work, he lets out a couple more angry neighs and throws a tantrum. He's a whirling dervish,  leaping in the air, bucking and spinning. The long black tail lashes with a snap, he kicks a hind leg, and tosses his head. All this punctuated by rumbling horsy mutters and
snorts.
Finally, I relent and head for the barn. Hooves clop angrily under the little porch; the metal feeders rattle as he shoves them with his nose. "Empty! Fix! Now!" I take my time, and he lets out a long, ratting snort. He's like that really rude customer in a restaurant who expects the food to arrive the instant it's ordered. Well, except that once the food arrives, he's happy. He'd never, ever send it back.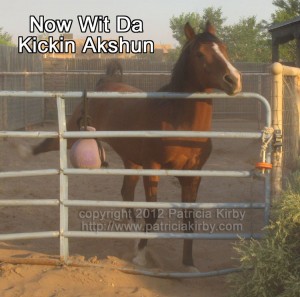 I still, however, wouldn't expect a tip.
Click images for larger version.