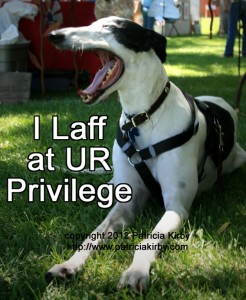 I'm always late to the party, and by party, I mean Internet kerfuffle. Case in point, the flurry over John Scalzi's blog post regarding white male privilege. The thesis being essentially (and correctly) that all other things being equal, being a white male in our society conveys a certain degree of advantage. Nowhere in the post is the assertion that all white men have it easy or that in the absence of melanin, comes heaps and heaps of money and success. But, this being the Internet, the squadrons of flying monkeys soon began attacking, because there is no greater victim than the hapless white male. (Yes, I'm being sarcastic.)
This reminded me of a holiday dinner that was effectively ruined by a political discussion which turned ugly when one person absolutely refused to acknowledge social inequality or his/her unexamined privilege. Fuel by too much alcohol, the person came unglued, and flung out one straw man argument after another like so many ugly Mardi Gras beads. It was like having a discussion with a toddler who desperately needed a nap.
The reaction among certain people, to Scalzi's posting–which really, was just a cleverly worded, and polite plea for a modicum of self-awareness–was a similar study in hyperemotional reactivity. Given the whinging, you might have thought that Scalzi suggested that all white men divest themselves of their earthly belongings and spend the rest of their days beating themselves with a cat o' nines in penance for the crime of white-it-tude.
Dear Point: You have been missed.
In both cases, the overreaction appeared to be fueled by a desperate need to be stupidly defensive. Clearly, some humans, when asked to examine their own privilege, devolve into shit-flinging simians.
Therefore, in the interest of furthering the point, lets examine my privilege. "Me," in this equation equals "Hispanic female from a lower middle class background raised by a single mother." Not necessarily a class synonymous with privilege.  So it may seem odd that I will call out my own advantage.
The primary source of my privilege is my mom, who in addition to being Anglo, is also Tulane-educated. That degree being in liberal arts, it initially amounted to a hill of beans, career-wise, with her early days of employment being in administrative work. Nevertheless, among my friends and schoolmates, Mom was one of the few parents with a college degree. Most being high school graduates, at best. A good many were recent immigrants who didn't even speak English. To be utterly blunt, the degree of interest among many of my cohorts' parents in their children's education was minimal, at best. The majority just wanted little Jose or Maria to go to school regularly and stay out of trouble. Their children's attention and aptitude of academic success reflected their parent's disinterest. Most could bring home C's and D's, or ever F's, without any consequences.
This is where someone, in the finest tradition of the Internet, or in an alcohol-powered state of belligerence, will cite an example of a kid who was literally raised by wolves and nevertheless went on to win the Nobel Prize in Astrophysics. Riiight. Again. The point called, but you were apparently out.
Obviously, some people transcend humble beginnings. There are also immigrant parents, who despite their own lack of schooling, demand that children get a good education. But a few anecdotes does not an argument make.
I'll admit, when I was younger, the extent of my privilege escaped me. I couldn't understand why most of my classmate were so…, uh, dim. (Yeah, I was an arrogant little snot.) While I'd like to believe that I have a high degree of intellectual curiosity, most of my academic success was driven by the fact that I had already learned the material. At a museum or while reading. Of course it was easy. Because my Mom believed education was the route to success and she did everything possible to encourage me. When I was very young, she read to me. Later, she bought me heaps of books and took me to the library. When it was clear that science was my passion, she encouraged that interest. I got piano lessons. Even my horseriding lessons–a hard stretch financially for a single mom–broadened my horizons beyond that of the rest of my urban-dwelling schoolmates. All added to a body of knowledge and structure that nurtured learning.
Growing up with a highly literate adult with a strong commitment to education is a tremendous advantage over those who grow up in a home without a single book.
Yes, ultimately, success in life is still determined by work ethic and dumb luck (yes, folks, "luck," deal with it). And yes, there are white men in jail or homeless despite the privilege of being white. That doesn't mitigate the main point: privilege gives you a leg up in the race of life.
I guess it's a bit like the tortoise and the hare fable. Had the hare possessed even a modicum of a work ethic, he would have beaten the shell off the tortoise. In a foot race, long legs and a lithe frame are a tremendous advantage over a bulky, armored body. It's not the hare's fault that he's a hare; neither is it the turtle's for being built like a tank. It is what it is.
You can't blame the hare for winning. You can, however, blame him for lacking the self-awareness to realize that the victory was aided and abetted by the fact that his competitor lacked the physical advantages that he possessed. The hare shouldn't act like an asshole in victory: sneering at the tortoise's short stubby legs, or worse yet, claiming that the heavy shell is somehow an advantage.
I was lucky. I have a smart mom who expected me to do well in school. There's no reason I should be guilty about my advantage, anymore than white males should feel guilt over their gender and race. Acknowledging privilege, however, means realizing that you may be the fastest bunny in the race because the rest of the field are tortoises. And maybe, that's why it's so hard. Because in recognizing our own advantages, we can't always claim every victory as our own. Or engage in mean-spirited exercises where we sniff imperiously, certain that we'd never run slowly, like those stupid, lazy tortoises, because we would know better than to carry our house around on our back.
In acknowledging our own privileges, we are forced to give up the deep-seated belief that we are better, somehow smarter than "those people."  It forces us, therefore, to apply  genuine compassion when looking at other people's situations and choices. Acknowledging privilege really is an exercise in walking in the other guy or gal's shoes.