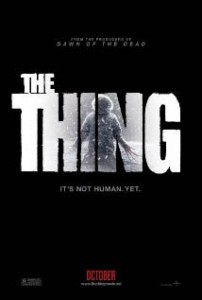 You know a movie has acquired a level of suckitude approaching black hole proportions when … I don't even care about the dog.
I make no secret of the fact that I like animals more than people.  Sometimes, an animal is the only character worth watching. For instance, I spent the entire, agonizing, "good lord smite me before I have to watch more of this crapfest," three-hours of Alexander the movie, worrying about Bucephalus the horse.
The Thing couldn't even get me to give a fuzzy crap about the dog.
The Thing begins with three guys in an ice jeep thingy (look, if the director and scriptwriters were too lazy to build character backstories, I'm too lazy to Google the correct name of the vehicle). They are following a mysterious signal across the Antarctic ice. And they are Norwegian, which is the extent of character development for a big chunk of the cast. The three are part of a team working in some far flung corner of Antarctica. Most of the team is Norwegian, so I just started calling them Viking 1, Viking 2, etc. One of the Vikings tells a joke about incest which is the funniest point of the whole movie. And really, it's not that funny. Antarctica isn't amused either, because a giant chasm opens and the jeep thingy falls in.
Cut to someplace warmer and cute paleontologist Kate (Mary Elizabeth Winstead) is giving a frozen saber tooth tiger a colonoscopy. Kate has the exact haircut as my buddy Sharon, so I spent most of the movie going, "Nooo, Sharon, don't go in there!" Her scruffy buddy, uh, Bob? (seriously, I can't even figure it out from the cast list)…comes in to tell her that she's needed in Antarctica to give dental exams to frozen ant aliens. Okay, he didn't say that. It would have been a much better movie if he had. His boss, a grim looking Norwegian named Dr. Sander Halvorson, follows him into the room and announces that he's found something really awesome, so amazing that he can't tell her about it; she just has to get her ass to Antarctica. Kate grumbles about the lack of information and then realizes that she's playing proctologist to an extinct cat. Antarctica will be like a day at the beach.
Several layovers, missed flights and TSA strip searches later, Kate and company arrive in the great white south. There we meet one of the pilots, Carter (Joel Edgerton), who you know is an important character because he's A) American, B) Got cute, sad boy eyes, and C) instead of scruffy beard, has just-right stubble. There's also a black man, Jameson (Adewale Akinnuoye-Agbaje), and you know he won't live to see the end of the movie. There is something in a horror movie that does not like the black man. My husband and I immediately start taking bets as to who will be the first to get "et" by the alien.
Anyway, Dr. Halvorson shows Kate the extraterrestrial on ice. Then he pulls out a drill and announces that he needs a tissue sample. Kate politely points out that a garage in the middle of bumfuck Antarctica may not be the best place to carry out scientific experiments on an alien life form.  Halvorson says he must break the ice because how else will the monster be unleashed on the hapless cast? No, wait, that was me. Drilling happens. The beast awakes. Angry. (Can you blame it?)
The black man isn't the first to die. This represent the only departure from horror movie formula in the entire film. Instead, one of the Vikings is the first victim. Then the dog. Or was it another Viking? I can't remember. The point is, the dog's passing was met with a shrug by me. Before its demise the animal is onscreen for about ten seconds. Once, when Lars, its owner, is introduced. Then, with a split second shot of it growling at something. We don't even get to see it turn into a freakish dog alien.
The script is so fumbling, so inept, that it under-develops a dog's character. How hard is it to make a dog lovable? Show it wagging its tail; licking someone's face; big brown puppy dog eyes. Tah-dah! Audience loves the dog. When it comes to dogs, there's thousands of years of co-evolution at work. You have to actively work to make a dog unlovable to the average human being. We're wired to love dogs.
There are four characters in The Thing who manage to be mildly memorable: Kate; Doctor Halvorson (the archetypal asshole Who Must Die); Carter (love interest, except there isn't any lurve), and Lars (dog owner and briefly, wielder of the might flame thrower).  Kate, to her credit, is a strong female character and she's given a lot to do. The problem is that other than being a take-charge babe, we know nothing about her.
Lar's only contribution, besides being enthusiastic about using a flame thrower (but who isn't, really?), is to show Kate his grenades. Wink, wink, wink. Yeah. I wish. (This movie really coulda used some gratuitous nudity. Titties in the cold!) Lars really has a secret stash of grenades. Doc Halvorson's job, of course, is to die in a spectacular way. (Sort of.) Carter is there to provide a feeble suggestion of sexual tension.
The alien itself, particularly when it starts morphing humans into monstrosities and in one case, into each other, is wonderfully grotesque. But in the absence of character identification, the great creature design is just a banal gross-out with no thrills or chills.
Which brings me to my conclusion about The Thing. It's a so-bad-it's-fun movie. But it still sucked. No, I wasn't expecting Atonement. I was, however, hoping for something more than an un-scary movie where the actors could have just as easily been replaced by tennis balls with smiley/frowny faces drawn on them with a Sharpie.
Seeing The Thing morph into a fuzzy green tennis ball? That's would have been cool.